Arushana Sunderaeson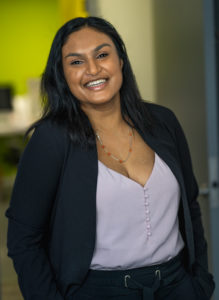 My name is Arushana Sunderaeson, and I am an alumna of YWCA Canada's Think Big! Lead Now! Young Women's National Leadership Program 2017.
I want to share my leadership journey with you and invite you to sponsor a young woman to attend this year's leadership program.
Growing up, I was taught that it was important to help others, especially those who are in situations of vulnerability. I was a shy teenager and would not want to get involved, but that changed when I entered university. I felt ready to make a difference.
In 2015 and 2016, I attended the YWCA Niagara Leadership Summits, and I was inspired not only to support other young women and girls but to engage in civic action during the federal election of 2015.
In 2017, I wanted to do more and joined the YWCA Niagara summit as a coordinator. I witness how the summit flourished into a space for all women and girls to come together, to support one another and to share their stories.
After the summit finished up, the YWCA Niagara Summit leader, recommended me to apply for the Think Big! Lead Now! National Leadership Summit hosted by YWCA Canada. I was worried about not getting into the program, however, a couple of months later I heard back, and it was a yes!
I was excited to head up north to Muskoka, Ontario, to meet over 100 women and girls from across the country and to celebrate 2017 International Women's Day.
The Leadership Summit was filled with fantastic guest speakers, workshops and networking opportunities. Throughout the week, I gained the confidence I needed and learned about public speaking, political involvement, personal branding and more.
In the evenings, we also had space to relax and enjoy, and over a cup of tea and cocoa, we shared our personal stories. This part was my favorite part of the Summit, it felt like a bunch of women and girls, who one day are going to change the world and are a voice for their communities, came together to laugh, cry, share our deepest secrets and to just be ourselves.
I continue to be part of the YWCA community and actively volunteer. I have done webinars on personal branding and, on International Women's Day 2019, I shared my experience of working in politics as a young, racialized woman and to discuss the importance of why young people should get involved in civic engagement.
Currently, I am part of the Leadership Summit Animation Team (LSAT) supporting YWCA Canada in the planning of the Think Big! Lead Now! Young Women's National Leadership Program 2019-2020 edition. I want the experience of the new cohort to be as positive as mine and, for that, YWCA Canada needs your financial support!
YWCA Canada is an organization I consider to be my second family and an organization I fully support. The work they do to empower young women and girls transformed my life.
Your sponsorship will ignite a young person's commitment to lead the change in their communities as it has done with me.
Thank you so much for your support. It is greatly needed and appreciated.
Arushana Sunderaeson
YWCA Canada – LSAT member
Youth Advocate, Feminist, Leader.
Andy Villanueva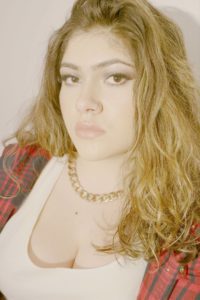 Andy Villanueva – 2017 Horizon Award Winner – Feminist Filmmaker at Sundance Cannes – Gender Equity Activist.
Andy was born in Mexico, in 1996 and at the age of 6, she moved to Toronto, Canada, where she lives and studies. She is a director, screenwriter and an activist.
Andy started collaborating with YWCA Canada during in 2015 as part of Project Shift. Her contributions to the Movement through her work and experience are far-reaching and inspire much more youth across Canada. 
What motivated you to take part in YWCA Canada's Project Shift?
I wanted to take part in Project Shift because I think the online world can provide some pretty empowering and amazing tools. Unfortunately, it's more often used as a vehicle to perpetuate violence against women. I liked how the project included young women and how it valued us as equal collaborators.
You took part in our Young Women's National Leadership Program in March 2018. Then you shared with us these words, 'We are each other's best advocates, and that is something that we often do not do or talk about.' How do you think you could be an advocate for other women?
I try to be an advocate for other women by being transparent. It's not easy coming up from where we come from, but we have to keep fighting the good fight and encourage each other to keep playing the game. I like to share my exit strategies and some of the tactics I use to sustain and endure in hostile, sexist or racist environments which are rampant in the film industry. Sometimes, defending yourself and your community doesn't look like vocal advocacy, it seems like you hustling and moving on and moving up in worlds that were not made for you.
Could you share with us some actions or ideas you have implemented or are planning to apply in the future as a result of your experience of collaboration with the YWCA Movement?
Post the Young Women's Leadership Summit; I was motivated to engage in the upcoming provincial election in the only way I knew how. I contributed to the cause by filming and featuring the voices of young women who are front-line workers and who are community leaders in a non-partisan public service announcement. I hoped to engage the public with the issues at stake, and through the process, I learned a lot about my workflow, it was a rewarding experience.
What particularly in the Program inspired you to consider being involved in politics more actively?
Laurin Liu was a great keynote speaker for the Summit. Before listening to her, I'd never considered taking politics as a viable route to explore. She was approachable, and I was star struck by her and all of her accomplishments. It motivated me to work harder and to seek out ways I can directly participate in politics in my community.
I'm thankful for the opportunity to meet other young female leaders and will do my best to carry that energy forward.