Content Warning: References to sexual assault
The Weinstein case verdict is a watershed moment for gender justice activists. Yet it still raises troubling questions for feminists:
How many survivors does it take before we are believed?
What is the threshold for holding a rapist accountable: 1 woman or the 80 women who spoke out?
Are we only credible if the New York Times investigates and wins a Pulitzer prize?
Gender-based violence seems to only get on the radar of public opinion when Hollywood stars  (i.e. white, wealthy and cisgender) start speaking out. Meanwhile, in Canada, the YWCA has been working on #MeToo for the last 150 years.
Weinstein's crimes are a combination of the all too familiar predatory pattern of misogyny, corporate greed and toxic entitlement. With the YWCA Canada office in Toronto mere blocks from where he attacked women at the Toronto Film Festival, my YWCA colleagues wonder: even with a guilty verdict,  would he even be punished? "What if they sentence him to one of those golf course jails for rich guys!?!" my co-worker Rebecca exclaims. I share her worry. Money and power weave their way into sentencing decisions, sometimes rendering a guilty verdict to nothing but an inconsequential piece of paper.
To learn more about what this sentencing means for Canada, I interview Shalini Konanur, the Executive Director of the South Asian Legal Clinic of Ontario on the day of Weinstein's sentencing. Every day Shalini works on the front lines of the legal system supporting immigrant, undocumented and racialized women. She greets us jubilantly on the steps of the Toronto courthouse, "Have you heard the sentence? 23 years of jail!"
After decades of representing survivors in court, this may be a small victory, but it is a validating one. Shalini notes that the judge in New York was able to take into context the big picture in his sentencing: the survivors identified a clear pattern of predation, and the fact Weinstein hired ex-Mossad agents to stalk and harass women.
Shalini sees this sentence setting a path for Canadian sentencing guidelines since Canadian courts tend to give lighter sentences in sexual assault cases. In Canada, according to recent Statistics Canada data, only 12% of sexual assaults reported by police lead to a conviction, and only 7% result in a custody sentence. This is in stark contrast to physical assault that has a conviction rate of 23% and a custody sentencing rate of 8%, in the Canadian legal system. Gender-based human rights training for judges is one way to make the Canadian system more responsive. But Shalini notes that  for vulnerable women, their experiences in housing, welfare and immigration tribunals are equally biased.
While shooting the video on the courthouse steps, women nearby stop to watch nodding as Shalini speaks. A mom of three in comfortable jeans and nose ring walks by; a retired professor in a tailored wool coat stands in the wind. They start to share their stories with us. Complete strangers share their experiences of sexual assault and trafficking. Women spoke of the pain of not being believed. They shared the humiliations of a system more interested in blaming sex workers, Indigenous women, and refugees for assault, than holding the perpetrators accountable.
"It's so sad that we are surprised he even got jail time," one woman points out. "When is the next march?" another woman asks. "Because I will be there," she tells me.
(For more on Shalini's take on the Weinstein sentence, and #MeToo actions you can take to improve the Canadian legal system for survivors – please watch the video below and sign our petition to pass Bill C-5).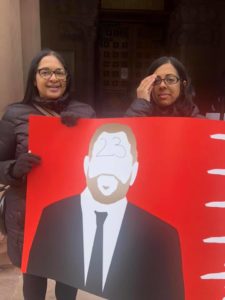 Bill C-5, an Act to Amend the Judges Act and the Criminal Code, would ensure:
All newly appointed provincial superior court judges undergo training to learn about the myths and stereotypes still associated with sexual assault cases
The Canadian Judicial Council reports on ongoing efforts to provide similar training to sitting judges
Judges are putting their reasons on the record when they rule on sexual assault cases
Survivors of sexual assault have the right to be treated with dignity and respect. Take action today to make this a reality across Canada!
Learn more: https://ywcacanada.ca/takeaction-billc5