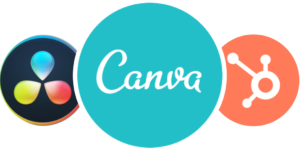 Why should a non-profit invest in multimedia content creation? 
According to nonprofitsource.com, 55 percent of people who engage with non-profits on social media end up taking some sort of action. 59 percent of those people donate money, 52 percent donate clothing, food and other personal items, and 25 percent contact their political representatives either by phone, letter or email to help the organization forward change. The most effective way to enhance audience engagement on any online and traditional media platform is to have captivating visual content. 
Multi-media can be used in a number of ways to boost a non-profit's visibility. Within the YWCA, PSAs, "meet the team" reels, infographics and 30-second videos highlighting projects and calls to action are great ways to incorporate multi-media into a marketing strategy and get the attention of not only donors, but potential service users, sponsors, and partners. Utilizing video editing and image design software this way can increase awareness of issues and services, community outreach and fundraising potential.  
We all know that video production and graphic design can cost a pretty penny. Non-profits typically have limited funds and just like for-profit organizations, are concerned about returns on their investments. With that being said, there are many affordable and easy-to-use resources available to create high quality content within a budget.
On August 16, join us for a virtual workshop on how to utilize user-friendly multimedia software to enhance your organization's visibility within your community. Click here to reserve your seat.  
Graphic Design – Canva 
No longer is Adobe Photoshop and Illustrator the only way of creating industry-standard graphics. Canva has become a go-to software for many organizations, and is one of the easiest, most effective online tools for creating captivating images. With a monthly subscription of $16.99 CAD, you will have access to a substantial library of fonts, shapes, stock images of diverse people, videos, logos, and templates that are easy to manipulate to fit your needs. Through Canva, folks with very basic graphic design experience can easily create promotional material for events and projects, infographics, and more.  
Canva's video library offers a large catalog of royalty-free clips that can be easily exported and inserted into your video editing software. This incredible feature simplifies the process of needing to search elsewhere for paid clips or filming a video yourself. While the free version of Canva does not include this feature, it still provides users with a creative experience that can get the job done.  
Video – DaVinci Resolve 
It is often assumed that video editing software is complex and not user friendly to beginners. iMovie and Windows Video Editor are easy-to-use programs that are free and usually come installed on all Macs and PCs. While these programs are great, they have very limited functionality. Industry standard Adobe Premiere Pro can be quite expensive, however, there are free programs that offer a wide array of functionality but are also user friendly. DaVinci Resolve is a high-end video editing program that rivals with competitor features but is completely free. The software can be as simple, or as complex as you would like it to be.  If you are looking to create a short PSA, or even something more cinematic, Resolve is an exceptional program that will fit in to any non-profits budget.  
While these resources can offer high-quality media production, having the personnel to create content can be costly. Many organizations hire external organizations or have specialized departments which can be expensive. There are many free capacity building resources available to train staff in basic graphic design and video editing to save on these costs. HubSpot Academy is an online educational platform that provides free courses in many facets of marketing, including graphic design and video production. With a few 45-minute classes and practice using Canva and DaVinci Resolve, non-profits can tell their stories through meaningful and captivating visuals in order to forward their work.  
Not only will multimedia increase supporters but it will also continue to engage current supporters. Investing in content creation can make a significant difference in the number of eyes that see the work being done. 
By Natasha Stephens, YWCA Project Coordinator