Catherine Morrison, alumnae of YWCA Canada Young Women's National Leadership Program and graduate from McGill University in Gender, Sexuality, Feminism, and Social Justice Studies highlights the gendered impacts of the COVID-19 pandemic on young people. Catherine shares how we can stop the shadow pandemic during this crisis – gender-based violence.
Rates of gender based violence have greatly increased throughout the course of the COVID-19 pandemic. Within the last few months, society has seen a rise in policing, digital surveillance, sexual abuse, racism, cyber violence, and domestic violence. Amid self-isolation, women, racialized groups, newcomer communities, single parents, non-binary folk, and children, are being exposed to both pre existing forms of gender-based violence as well as new forms of violence that have been created or increased due to the riskful living conditions introduced by COVID-19. 
While many individuals are currently being affected by gender based violence, young people, from the ages of 30 and under, are facing this issue in unique ways. Young women, nonbinary and Two-Spirit people (ages 15-24) are more likely to experience gender-based violence than any other age group. 
As well, as one of the demographics with the least amount of financial income, young people now more than ever are under pressure to insert themselves into dangerous living and working situations.  In fact, in a survey conducted by Statistics Canada, around 50% of youth reported the COVID-19 pandemic would have a "moderate" or "major" impact on their ability to meet their financial obligations, leading them to face tremendous amounts of stress. 
For many young people, coming home to live with their parents has become the only option due to incapability to pay their rent due to job loss. For many, moving back home has meant re-inserting themselves into dangerous and abusive dynamics. According to Minister for Women and Gender Equality, Maryam Monsef, COVID-19 has empowered perpetrators of domestic violence as abuse rates have risen in many parts of the country. Due to increasing financial and mental health issues, as families are forced to self-isolate, it's more likely than ever for individuals to act erratically, leading to cases of domestic violence. 
Young people also make up a large majority of those who work in frontline industries,  service-producing sectors—such as the restaurant and food retail industry. Those working in grocery stores, pharmacies, and take-out, delivery, and fast food restaurants are having to work in precarious conditions every day. Though they're being referred to by "heroes" by major media outlets, these individuals continue to receive low wages while having to serve abusive customers and putting their lives, and the lives of their loved ones, at risk. 
As many individuals have lost a major source of their revenue due to nation-wide layoffs and pay decreases, a large majority of young people are struggling to pay their bills. In light of the situation, there has been a rise in harassment by landlords, who are increasingly inflicting aggressive measures upon renters. In some cases, landlords have began coercing young people, especially women and non-binary individuals, to make up for their inability to pay rent with sexual acts. 
In working to combat the rise of gender based violence during the COVID-19 pandemic, the Canadian government has pledged $7.5 million in funding to Kids Help Phone and $50 million to women's shelters, sexual assault centres, and Indigenous support services. However, more can be done to aid young people experiencing gender based violence. 
As we've seen, COVID-19 so far has worsened many existing injustices or inequalities. But it doesn't have to be this way. The pandemic presents an unprecedented opportunity to rebuild our social safety net and systems from the ground up. Gender-based violence is one example – it's essential that changes be made at a systemic level through developing a national action plan to address gender-based violence. 
Let's respond to gender-based violence now (by, for example, donating to  the YWCA emergency COVID fund) and in the future, by encouraging our government to adapt a feminist approach to COVID-19.  We cannot let this shadow pandemic continue without immediate action.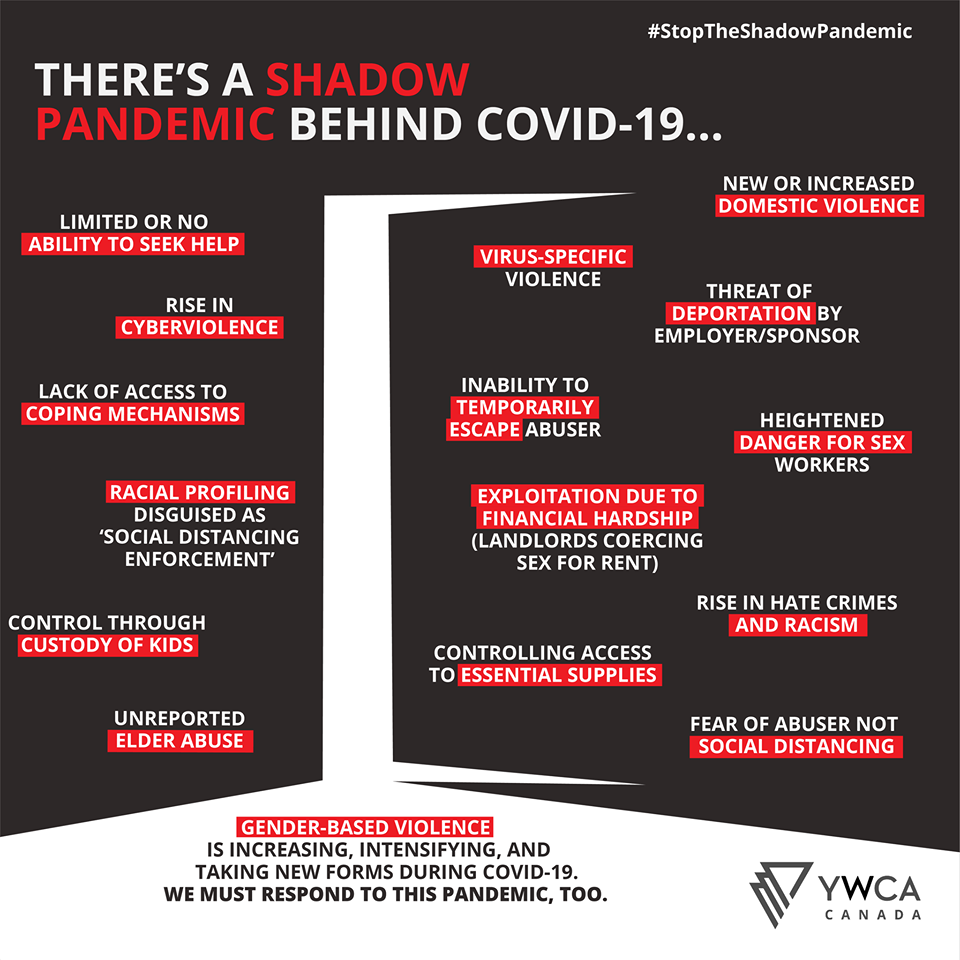 #StopTheShadowPandemic
Catherine Morrison is a delegate of the 2020 Think Big! Lead Now! Young Women's National Leadership Program. To learn more, visit www.thinkbigleadnow.com or contact us at projects@ywcacanada.ca. This project is funded in part by the Government of Canada and RBC Foundation.