Anjum Sultana, YWCA Canada's Manager of Public Policy & Strategic Communications was chosen by Young Diplomats of Canada to represent Canada at the 2019 G7 Youth (Y7) Summit in Paris, France from June 10-14. Anjum was one of four Canadian delegates tasked with representing the voices of Canadian youth at the highest levels of global diplomacy. Internationally, Anjum is the first YWCA affiliated person to represent their nation in Y7 processes and is embodying World YWCA's mission of 'transform[ing] power structures to create justice, gender equality and a world without violence and war'. 
The G7 Summit: A Platform to Convene, Build Coalitions and Take Action 
This year, France holds the G7 Summit presidency with President Macron and his government focusing their work on addressing global inequalities. The Y7 delegation represents one of the official engagement groups for the G7 nations.
Key priorities include:
Fighting inequality of opportunity so that everyone has a chance regardless of their gender or origins

Fighting inequality due to environmental degradation

Security and counter-terrorism

Fighting inequality through digital development and artificial intelligence

Combating inequality through a unique partnership with Africa 
Intersectional Feminism and the G7 
It's been an incredible honour to serve as one of the Canadian delegates for the 2019 Y7 Summit. It was one of the most rewarding experiences of my life and one I won't soon forget. In the lead up to the Y7 Summit in Paris, my fellow Canadian delegates and I met with diplomats, previous Canadian delegates and organizers of Canada's 2018 Y7 Summit, Young Diplomats of Canada.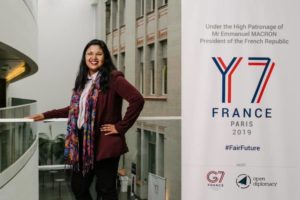 In the face of increasing resistance to multilateralism, spaces like the Y7 Summit provide an important platform for youth across the globe to come together to develop policy solutions to complex global challenges, and ensure our perspectives are strongly considered by G7 nations.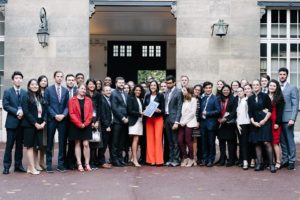 Through this experience, my fellow Canadian delegates and I had the opportunity to work with over 40 delegates from the African Union, the European Union, France, Germany, Italy, Japan, the United Kingdom and the United States of America. Together, after days of intense negotiations, we produced a final communique outlining Y7 policy recommendations to address economic and gender inequalities as well as embed inclusion in the face of digital disruptions and an urgent global climate emergency. Our collective aim is to ensure that G7 nations adopt our recommendations during the G7 Summit taking place in Biarritz, France from August 24th to 27th.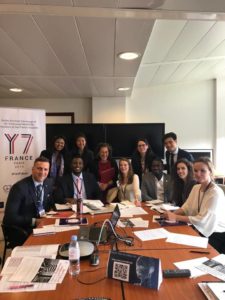 To inform our policy recommendations, we consulted with youth in our nations and met with leading experts in Paris and in our home countries on a range of issues from artificial intelligence, child care, gender-based violence, taxation, climate change, the UN Sustainable Development Goals and more. While in Paris, we visited institutions such as UNESCO, OECD, the French Senate, and the French National Assembly, spoke with French political leaders such as the Minister of the Economy and Finance Bruno Le Maire, and presented our recommendations to G7 Sherpas.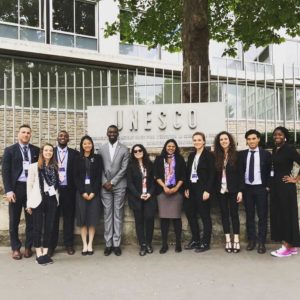 As an intersectional feminist, I do not take this responsibility lightly because the public policies, budgetary decisions and political choices made by leaders of G7 nations disproportionately impacts Global South nations, Black and Indigenous communities, women, LGTBQ+ people, youth, as well as other diverse underrepresented, historically disadvantaged and equity-seeking communities. As a racialized Muslim woman who immigrated to Canada, my social location makes it so that I am personally affected by current global inequities surrounding distribution of power, privilege and resources in a tangible and distinct way. 
During this experience, I was struck by the nuanced insights and technical expertise fellow youth delegates brought to the table. Furthermore, delegates were mindful of the historical and current context of (neo)colonialism, patriarchy and xenophobia. It demonstrated our shared desire in ensuring that we did not recommend policy solutions that would engender problematic dynamics and unequal power differentials. The inclusion of delegates representing the African Union in our summit and at the G7 Summit, the particular experiences and outcomes of African nations and peoples was  centered in multiple negotiation sessions for the Technological Disruptions Working Group and other working groups.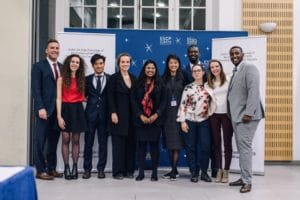 As a member of the Technological Disruptions Working Group, I was involved in amplifying the advocacy led by Sudanese civil society organizations' and human rights defenders. We galvanized our fellow Y7 delegates and spearheaded an additional statement from this year's 2019 Summit calling on the G7 nations and the broader international community to be engaged. We called on them to take action to address the human rights violations against Sudanese people, primarily women and youth, who are organizing for democracy and justice in Sudan. 
Post-Summit and Canada's 2019 Federal Election
Following the Y7 Summit, my fellow Y7 delegates and I have been hard at work pushing forward our calls to action to advance global equality and a fair future for all. While we were still in Paris, my fellow Canadian delegates and I had the opportunity to meet with and share our experiences with Isabelle Hudon, Canada's Ambassador to France as well as colleagues at the Canadian Embassy in Paris, Tristan Landry and Charles Hudon. Ambassador Hudon was also the Co-Chair of 2018 G7 Gender Equality Advisory Council, along with Melinda Gates of the Gates Foundation.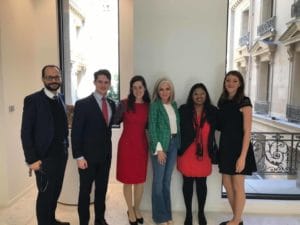 This year was a unique moment to represent Canadian youth at the Y7 processes given that eligible voters between the ages of 18 to 38 represent 37% of the electorate. This makes Canada's 9.5 million millennial voters the largest voting bloc in the country. If Canadian millennials exercised their collective political power, they could significantly shift the outcome of the upcoming federal election.  
In light of this current political context, Canadian youth have a pivotal opportunity to have their voices heard not only at the ballot box in October but throughout the lead up to the election. The Y7 Call to Action provides a launching pad for all voters in Canada, not just youth, to take a look at what policy solutions are proposed to address the complex challenges here at home and globally. I encourage you all to read it, find an issue that matters to you and champion one of our policy recommendations! 
— 
Post election, I am interested in continuing to advocate for inclusive feminist policies that put women, youth and equity-seeking communities at the centre. Are you interested in joining me? Email me at asultana@ywcacanada.ca to learn more and take your commitment to addressing inequalities to the next level! 
Photo credit: Adrien Thibault and Open Diplomacy. 
YWCA Canada
YWCA Canada is the country's oldest and largest women's multi-service organization. YWCA works in 300 communities across Canada to serve women and girls in nine provinces and two territories. By working across diverse geographic, cultural and linguistic communities, YWCA is able to provide a pan-Canadian perspective on gender equity. YWCA Canada is the nation's single largest provider of shelter to women and children fleeing violence. For more information visit www.ywcacanada.ca, find us on Twitter @YWCA_Canada or at  www.facebook.com/ywcacanada.
Young Diplomats of Canada 
Young Diplomats of Canada (YDC) is a national, non-partisan, youth-led non-profit organization that aims to break down barriers of decision-making at the highest levels of global diplomacy. 
Working locally and globally, YDC aims to develop the diplomatic leadership and international advocacy experience of Young Canadians, through hands-on training programs and key partnerships which give delegates the opportunity to attend and engage in high-level political and multilateral summits. Through these efforts, YDC hopes to mainstream youth engagement in big policy discussion within spaces such as the G20 and G7 meetings.
 YDC is helping to bring together a generation of young policy thinkers and decision-makers, and building Canada's next generation of global leaders, through which we aim to become the official national voice of Canada's future foreign policy.